---
AGAPASM
Alex Garcia: Deafblind Brasilian, is an Honorary member of Rotary Club
The meeting of the Rotary Cluib of Sâo Luiz Gonzaga, last Tuesday, April 14th, was marked by emotion, mainly when young Alex Garcia received the tittle of Honorary member of this service club. This distinction, according to the Rotary Estatute "is granted to persons who have been out of worthwhile services for the ideal of Roatry".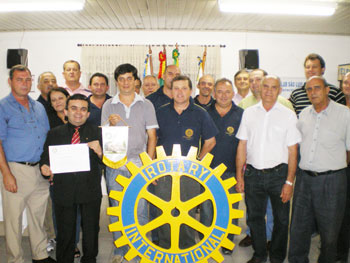 The hiistory of this young men concerning the activities he has developed for the rights and interestes of people with disabilities justifies sharing his experiences with a group dedicated to treat social causes as Rotary. And last March Alex was in Eugene, Oregon int he USA and he took with him the peannant with the Missionj Cross of the Rotary Club of São Luiz Gonzaga, Rs, Brazil. In Eugene, Alex was participating of activities supported by the Rotary Club of Eugene, which main characteristic is the work and attention to citzens with disabilities, all over the world.
In the moment when president Carmo Everling and member Azir Beber gave Alex Garica, in the name of the Rotary Club of São Luiz Gonzaga, the Rotary Club pin and the Honorary member diploma, everybody was touched and excited.
The new Rotary member thanked the honors with determination, vibration, and spontaneity saying that everything is possible.

Alex was there with his parents, Enio Luiz Garcia and Eloá da Silva Garcia, to whom he refered tenderly, saying that he owe them all the lessons that guide the success of his activities and he also talked about the endless effort and support form his family to help him develop his projects.
This month, two more victories enriched Alex story: the first place in the SENTIDOS Award , in Sâo Paulo, Brazil and the tittle of São Luizense Citzen given by the City Councillors of Sâo Luiz Gonzaga, RS, Brazil on a date to be scheduled.

Source: Jornal A Notícia
São Luiz Gonzaga/RS
20 de abril de 2009