---
AGAPASM
Alex Garcia - Deafblind Brazilian in Federal University of Ouro Preto
Alex Garcia, Deafblind Brazilian. President of Agapasm . Specialist in Special Education. Writer. II Sentidos Award Winner. Honorable Rotary Club member - Rotary Club in São Luiz Gonzaga-RS. International Leader for the employment of people with disabilities - Professional Program on International Leadership, Employment, and Disability (I-LEAD) - Mobility International USA - MIUSA. Member World Federation of Deafblind - WFDB. I write articles for the Reação Magazine, and also to Planeta Educação and I am a counceler of Rede Educativa Mundial - REDEM. Consultant of the Institute Brazilian Inclusion, once more has shown that despite of his limitations, it is possible that a person with disabilities can be active and can collaborate.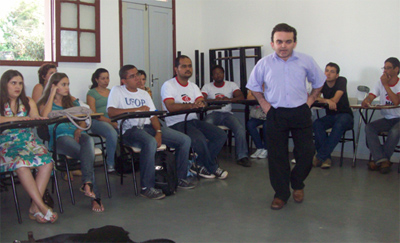 Photo 1 - Alex talking in a meeting of NEI - Inclusive Education Core
This March Alex collaborated in the III NEI- UFOP meeting and with the I week for the integration of the Institute of Applied Social Science, ICSA-UFOP, form the Federal University of Ouro Preto, Campus in the city of Mariana - MG. There were 4 days of activities. He started talking in the NEI meeting (Inclusive Education core - www.nei.ufop.br).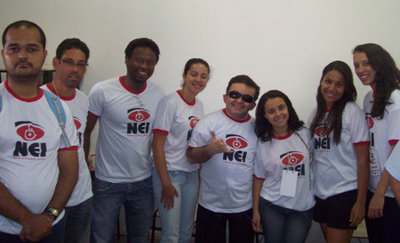 Photo 2 - Alex with members of NEI - Inclusive Education Core
After, Alex talked for the members of the study group Disability, Education and Society, from which there are students from many areas. This more specific moments were very good because I could know more details about the actions and tendencies for the inclusion of persons with disabilities at the UFOP and in the community, says Alex.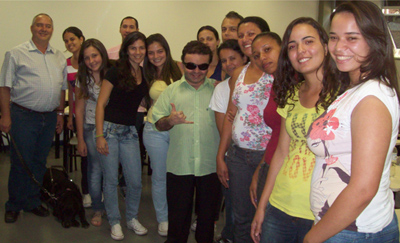 Photo 3 - Alex and the study group Disability, Education and Society
Alex visit to Mariana finished with his participation at the speaker's board exclusion/inclusion, which ended the NEI-UFOP meeting and the I week for the integration of the Institute of Applied Social Science. The table was coordinated by Marcilene Magalhães da Silva, coordinator of the NEI-UFOP.
Photo 4 - Alex speaking in the closing seminar
At this moment, Alex, once more, with his enthusiasm made everybody participate, as the Sociology Professor of the Institute of Applied Social Science highlights, Ubiratan Garcia Vieira. "Always focusing in his life story, Alex Garcia participated of the seminars in Mariana as a sympathetic speaker, Who tried to be near the participants and to use an accessible language. His approach of representing the or person and the feeling of shame, fundamental questions about the general Idea of people about disabilities is critical, informed and it has as a goal to collaborate with the changing of hierarchical attitudes which make people with and without disabilities be far even in the daily routine".
Photo 5 - Alex and the Sociology Professor of UFOP, Ubiratan Garcia Vieira
Thais Cossetti, a Law student of UFOP and a person with low vision remembers that with happiness and a brilliant speaking ability, added to a deep critical knowledge. "Alex Garcia shared honest words about the reality of people with disabilities, treating not only current themes, but talking about inclusion as a consequence of closeness and respect widely reflected and talking about the social aspects whose mobility depends the promotion of the inclusion as inserting, understanding and envolving breaking, then, stereotypes of limits and capacities".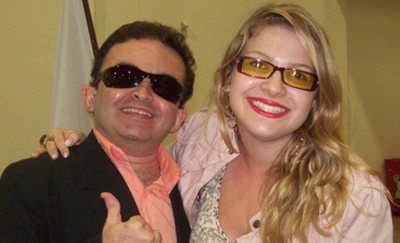 Photo 6 - Alex and Thais Cossetti
Alex Garcia, getting support from professor Ubiratan Garcia Vieira and going away some kilometers from Mariana, he could make a dream come true to visit and to know about the history of Ouro Preto. "For me, a deafblind person, it is very important to live this moments. Being in Ouro Preto is live part of the History. Visit the Saint Francisco de Assis Church and know that much of this was made by 'Aleijadinho' being at the Oratory Museum and other monuments was fantastic", says Alex.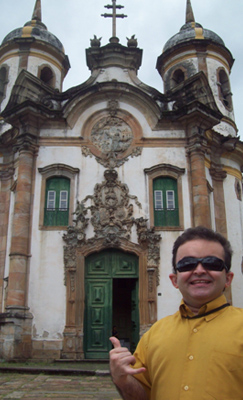 Photo 7 - Alex in front of the Saint Francisco de Assis Church, in Ouro Preto