---
AGAPASM
Victory is the product of persistence!
During the Week of the people with disabilities many activities are developed. I share with you the five lecturers held in different cities by me, followed by pictures because, besides recording things we have lived, they help to know and, mostly, to reflect. It is a great honor and a great responsibility to confirm my commitment to continue fighting for the rights of people with disabilities and their families. Together, we built something new, day by day, from where we are and with the tools we have. With confidence and supporting each other, we'll move forward!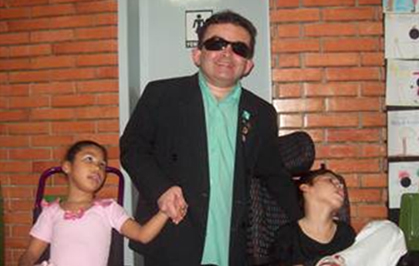 Photo 1 - City of Julio de Castilhos. In this photo I'm in the center, l on the left there is a girl and on the right there is a boy, both are persons with disabilities (cerebral palsy). They are dancers and are very intelligent. During my speech, I approached of them very much because they were very concentrated and paying much attention.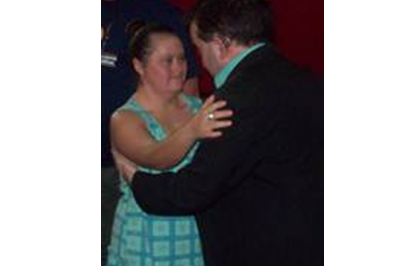 Photo 2 - City of Julio de Castilhos. In this photo I'm talking face to face with a young man with Down Syndrome. You can see his joy and feel his emotion. Giving attention to a Person with Disability is not a favor or a gift. The attention is in itself a right that allows us to discover another human being and, through this other person we find ourselves. The human encounter is a gift that enriches us and drives us and to receive it we just have to pay attention.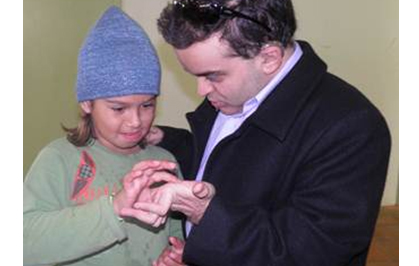 Photo 3 - City of Cruz Alta. This photo was taken at Venancio Aires School, which has multifunctional classes for Persons with Disabilities. I'm next to a girl with disability who tries to write in my hand. If you notice t her face it is possible to see that it was hard to her and we can feel her anxiety, so she wanted to stop trying, then I said, "try again, again, let's go!" And ... look at the next photo.


Photo 4 - City of Cruz Alta, second part. Now the girl's face is completely different, She is happy, her smile highlights this joy that occurs only when we have won something, when we beat ourselves. After trying for four consecutive times she could write in my hand, Hurray!!! Hurray!!!! I got it!!!! Victory is the product of persistence, and we are happy!


Photo 5 - School for the Improvement of Sergeants of the Brazilian Army. This school is the only of the Army that performs the task of improving all sergeants of the Army . Among its activities it provides exchanges with other countries, students receive sergeants from Latin America and Africa. 200 soldiers attended my lecture. It was my first experience to share and reflect with the militaries of Brazil. In the photo, I am getting the certificate from the hands of the Commanding General.


Photo 6 - Cruzaltense Harmony Masonic Lodge. The photo captures one of those moments in which I share several reflections with the members of Cruzaltense Harmony Masonic Lodge during the public session at its 117 th anniversary. It was a rewarding and enriching experience to share with the Masons for the first time.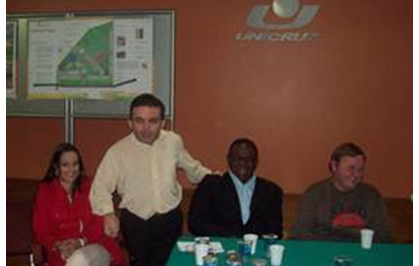 Photo 7 - University of Cruz Alta (UNICRUZ) during the 2nd academic week of the Architecture and Urbanism courses. I had the opportunity to reflect with these students. In the photo I'm near a teacher, a brother with physical disabilities and a blind brother.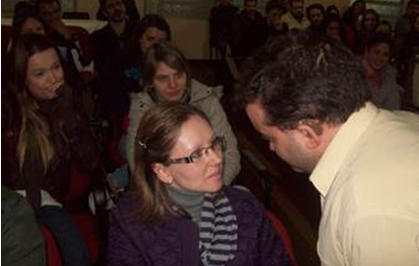 Photo 8 - University of Cruz Alta (UNICRUZ). The photo shows one of the moments that I'm talking near a young student . She looks at me with astonishment and it is no less the impact that people who are around show.
Alex Garcia

Deafblind Brazilian. Coordinator of the core regional for Rio Grande do Sul at the Baresi Institute. President of Agapasm - www.agapasm.com.br. Specialist in Special Education. Writer. II Sentidos Award Winner. Honorable Rotary Club member - Rotary Club in São Luiz Gonzaga-RS. International Leader for the employment of people with disabilities - Professional Program on International Leadership, Employment, and Disability (I-LEAD) - Mobility International USA - MIUSA. Member World Federation of Deafblind - WFDB. I write articles for the Reação Magazine, and also to Planeta Educação and I am a counceler of Rede Educativa Mundial - REDEM